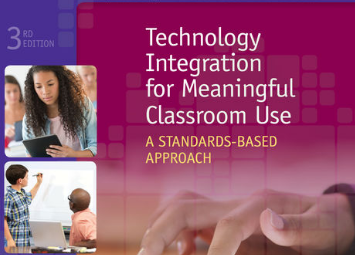 This course introduces educators to the range of educational computing applications. This course introduces ideas, concepts, and strategies for integrating computers into classroom teaching.
Duration:
Self-paced, Instructor Guided.
Credits
: Continuing Education Only | 45 PDE or 45 CEUs IACET
Course Objectives:
The focus of the course is on models for integration, but specific applications and how they can be used in the classroom will also be explored thoroughly. Particular emphasis is placed on the use of technology in K-12 schools, but the concepts and principles readily apply to most learning and training contexts.
Goals
Understand and use various integration models in your classroom.
Understand and use various software applications and apply their use in the classroom.
Explore and become familiar with emerging technology and reflect on its application in educational settings.
Standards-based Instructional Objectives
Demonstrate introductory knowledge, skills, and understanding of concepts related to technology.
Demonstrate continual growth in technology knowledge and skills to stay abreast of current and emerging technologies.
Design developmentally appropriate learning opportunities that apply technology-enhanced instructional strategies to support the diverse needs of learners.
Apply current research on teaching and learning with technology when planning learning environments and experiences.
Identify and locate technology resources and evaluate them for accuracy and suitability.
Plan for the management of technology resources within the context of learning activities.
Plan strategies to manage student learning in a technology-enhanced environment.
Facilitate technology-enhanced experiences that address content standards and student technology standards.
Use technology to support learner-centered strategies that address the diverse needs of students.
Apply technology to develop students' higher-order skills and creativity.
Manage student learning activities in a technology-enhanced environment.
Apply technology in assessing student learning of subject matter using a variety of assessment techniques.
Use technology resources to collect and analyze data, interpret results and communicate findings to improve instructional practice and maximize student learning.
Apply multiple methods of evaluation to determine students' appropriate use of technology resources for learning, communication, and productivity.
Use technology resources to engage in ongoing professional development and lifelong learning.
Continually evaluate and reflect on professional practice to make informed decisions regarding the use of technology in support of student learning.
Apply technology to increase productivity.
Use technology to communicate and collaborate with peers, parents, and the larger community in order to nurture student learning
Model and teach legal and ethical practices related to technology use.
Apply technology resources to enable and empower learners with diverse backgrounds, characteristics, and abilities.
Identify and use technology resources that affirm diversity.
Promote safe and healthy use of technology resources.
More Courses by Insturctor